Properly speaking, there are especially two kinds of compunction: for the soul that thirsts for God is first sorry in his heart from fear, and then, from love.

-Gregory the Great
The Seven Penitential Psalms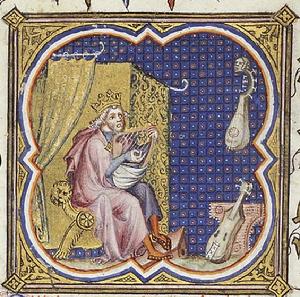 Petrus Comestor's Bible Historiale 1372
Domine, ne in furore



O God, do not rebuke me in your anger; do not punish me in your wrath.

Have pity on me, O God, for I am weak; heal me, for my bones are racked.


My spirit shakes with terror; how long, O God, how long?

Turn, O God, and deliver me; save me for your mercy's sake.



For in death no one remembers you; and who will give you thanks in the grave?



I grow weary because of my groaning; every night I drench my bed and flood my couch with tears.





Belleville Breviary 1323-6, Saul attacks David
My eyes are wasted with grief, French Bible of Hainburg 1300-20
My eyes are wasted with grief and worn away because of all my enemies.


Depart from me, all evildoers, for God has heard the sound of my weeping.


God has heard my supplication; God accepts my prayer.


All my enemies shall be confounded and quake with fear; they shall turn back and suddenly be put to shame.







The Saint Helena Psalter
© Order of St. Helena
Website powered by Network Solutions®